Finn and I (okay, just me, but I did get his input) decided to present our favorite books for children aged 1 to 3 or 4 years in the form of dueling "bests."
...with apologies to the illustrators...I know you're just as important as the authors but I ran out of time to look up your names...
Best book that rhymes
Amy says…
Little Blue Truck, by Alice Schertle and Jill McElmurry
Finn says…
Good-Night, Good-Night, Construction Site, by Sherri Duskey Rinker and Tom Lichtenheld
Let me state a simple truth: It is not all that fun to read wordy story books to a child who is: A) currently standing on his head, asking to play ring-around-the-rosie for the 500th time; B) trying to fold the pages into origami before you've finished the first sentence; C) chanting "no, not right" at escalating volume after every third word; or D) crying "I bwoke book" while pointing to the flap he ripped the last time you tried to read
Where's Spot?
Therefore, the vast majority of really lovely, brilliantly creative and artfully written children's books are definitely for school-age children, or in some cases, for parents to read in the privacy and quietude of their own beds, after their little ones have gone to sleep.
A good rhyme solves all of that. Even better, a good rhyming book is easily memorized, so when your child decides to see if it can swim with him, or demands ONE MORE BOOK after you finally managed to turn the lights out, or is utterly hysterical during a car trip, you can just recite them. Seriously. I memorized these two after reading them half a dozen times - they are that rhythmic. (
Little Blue Truck
was a gift from my dad.)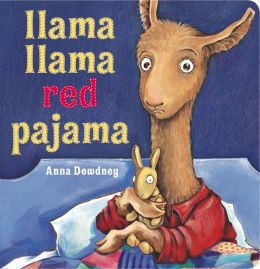 Best book about going to sleep
Amy says…
Llama Llama Red Pajama, by Anna Dewdney
Finn says…
The Going to Bed Book, by Sandra Boynton
I love Anna Dewdney's Llama Llama series. They are all great stories that toddlers can relate to and learn from.
And, most importantly, they rhyme
. I also love Sandra Boynton. One of Finn's earliest favorites was
Barnyard Dance -
when he was just about a year, he would participate in each part of the dance - stomp your feet, clap your hands, etc.
Both of these end with great lines that I sometimes quote to Finn in lieu of reading them (if we've already read three or four others). "Mama Llama's always near, even if she's not right here. Little llama, don't you know? Mama Llama loves you so." It helps a bit with separation anxiety at bedtime.
The Going to Bed Book
ends with "The moon is high. The sea is deep. They rock and rock and rock to sleep."
Best book that teaches letters or numbers
Amy says…
Chicka Chicka Boom, by Bill Martin, Jr. and John Archambault
Finn says…
The Very Hungry Caterpillar, by Eric Carle
These are classics. Enough said?
The Very Hungry Caterpillar
was the first book I can remember reading, with help. Finn likes to stick his fingers through the holes, but as he's gotten a bit older, he does participate in counting the fruit a bit more. He likes see the "mommy letters" and "baby letters" in
Chicka Chicka Boom Boom.
Best book about food
Amy says…
Dim Sum for Everyone, by
Grace Lin
Finn says…
Noodles for Baby, by Jamie Meckel
Dim Sum for Everyone
was written by a graduate of my high school (she was several years ahead) who became an artist and illustrator, and realized there was a huge gap in the children's book market when it came to Asian characters. I also love
The Ugly Vegetables,
a partly autobiographical tale of the Chinese "ugly" vegetables that her mother grew in the garden, while the white families on their block grew flowers. Finn prefers
Noodles for Baby,
a rhyming (yay) book about the many kinds of noodles (and babies!) in the Hawaiian Islands (our friends grew up in Hawaii and brought Finn the book). I worry that the baby throwing the noodles in the air and up her nose will give him ideas, but so far…nothing he didn't think of himself first.
Best pop-up book
Amy says…
Ben's Box, by Michael Foreman
Finn says…
School Bugs, by David A. Carter
Ben's Box
is a book from my childhood that I don't remember reading, but now I adore it (with one caveat). It is one of the most gorgeously constructed pop-up books I've ever seen, and it describes the adventures of a little boy whose mother gets a new washing machine. (That's the caveat - offended by the suggestion that a new washing machine is a mother's "toy", I substitute "father.") He just gets the empty box but quickly uses his imagination to make it so much more.
School Bugs
, unfortunately, from my point of view, is a bit lacking in text (and rhyme) but it also has cool, interactive pop-ups and flaps. Finn loves it for the playground scene at the very end.
Best Dr. Seuss book
Amy says…
The Butter Battle Book
Finn says…
One Fish Two Fish Red Fish Blue Fish
I feel like an idiot:
The Butter Battle Book
was probably my favorite book in kindergarten, but I didn't get that it was about the Cold War until I read it to Finn for the first time last year.
One Fish Two Fish
was, apocryphally, the first book I read entirely by myself. I also love
The Lorax,
by the way. And
The Sleep Book
nearly made the Sleep category above.
Best book with flaps
Amy says…
Brown Bear, Brown Bear, What Do You See?, by Eric Carle
Finn says…
Beautiful Oops!, by Barney Saltzberg
I admit,
Beautiful Oops!
is very creative. But like the next category, it can get a bit tiresome for the adult reader. It shows various "oopses" like torn paper and spills and ways in which a young artist can transform them into a masterpiece (instead of getting angry or frustrated).
Best book that doesn't have any kind of plot, or even characters, really
Amy says…
Green, by Laura Vaccaro Seeger
Finn says…
Press Here, by Hervé Tullet
Green
is a book of beautiful illustrations of different shades of green. Each page has a cut-out appropriate to the scene that reveals some of the color on the next page (e.g. tiny holes reveal a tawny yellow color and look like fireflies but when you turn the page, the color appears more yellow-green and is an autumn tree). I picked up
Press Here
thinking that its resemblance to an iPad app unplugged would amuse Finn...and it did. It really, really did. He calls it the "beep beep book" because it starts with a yellow dot and an instruction to "press here." Then two dots appear, then three... Later, the reader is asked to rub one until it turns red and the other until it turns blue. I'm sure you can see how this is endlessly amusing for a two-year-old and maybe not quite as amusing for a tired parent.
Best book that Finn doesn't understand yet
Amy says…
The Dark, by Lemony Snicket
Finn says…
Le Pétit Prince, by Antoine de Saint-Exupéry (admittedly, the pop-up edition)
Please read
The Dark.
It is so awesome and hilarious and sweet. I can't do it justice without giving it away. Trust me.
Best book of all time
Amy says…
Wherever You Are My Love Will Find You, by Nancy Tillman
Finn says…
Please, Baby, Please, by Spike Lee and Tonya Lewis Lee
Please, Baby, Please
is Finn's favorite book of all time. He could read it dozens of times in a row and will always pick it if it's an option. It's a pretty simple story - on each page, the baby is shown doing something babies love to do and parents beg ("please, baby!") them not to do - but he gets really into it, pointing out that the baby in the book doesn't like to eat her peas, only her pasta, but he (Finn) likes peas
and
pasta. On another page, he'll remind me that he has felt just like the baby when I made him leave the playground, while on yet another, he'll be outraged that the baby won't share her ball. On the last page, the baby asks the mommy to "Kiss me good-night? Please, mama, please", which is my favorite part.